Biofeedback / EMDR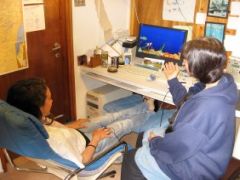 Anva Ohn-Bar PhD M.S. OTR
PhD in Natural Health Scienses
Treats and teaches Biofeedback and Neurofeedback
Occupational Therapist and Educational and Rehabilitation Counselor
Licensed Graphologist
Licensed EMDR Level 2
Specializes in Biological Treatment & Nutritional Counseling for Developmental, Behavioral & Cognitive Disorders. A change in nutrition & life style will also prevent disease and reinforce the Immune System.
Biofeedback – a therapeutic technique that works on the "seam' between medicine and psychology, the body and the mind, and turns you into an active partner in the learning process, symptom control and disease healing.
Through Biofeedback, one learns to control reactions, to decrease anxiety, muscle tension, prolonged pain, headaches including migraine, high blood pressure, "irritable bowel", sleep problems and other psychophysiological problems.
Concentration and learning ability improves when one learns to relax and to deal with conditions of stress and tension. Treatment is applied by means of a sophisticated electronic device that provides physiological information which we are usually unaware of. Physiological indicators such as pulse (heart rate), perspiration (electrical transmitters of the skin), temperature, muscle tension and brain waves – are relayed to the patient through unique computer programs – and thus we learn to control these indicators and to regulate our emotional and physical reactions. There are special computer programs for children with concentration, attention and hyperactive problems (ADHD).
EMDR – a special method developed in treating trauma victims, decreasing stresses and anxieties and to achieve changes in self-perception and cognition.
TED talk about EMDR
A video about EMDR
The combination of Biofeedback and EMDR, enables speedy control and significant symptom relief.
The International Society for Traumatic Stress Studies (ISTSSS- the leader in determining effective treatments for PTSD) identifies EMDR as a Level A treatment for PTSD, based on a multitude of well-controlled randomized trials and systematic meta-analytic reviews. There has been a dramatic improvement in research quality since 1989 when EMDR was first introduced. ISTSS' critical review of the evidence is based exclusively on a review of RCTs of EMDR for PTSD published in peer-reviewed journals since publication of the guidelines. EMDR has been compared to other front line treatments, including medications that target PTSD and Exposure Therapy, and it has performed comparably in all such trials. Compared to other treatments targeting PTSD, the status of the evidence supporting EMDR is substantial and of high quality. It received AHCPR (Agency for Health Care Policy and Research) Level A rating for treatment of adults with a diagnosis of PTSD. EMDR for children warrants an AHCPR Level B rating. EMDR appears to be well tolerated by most patients, possibly to a degree not characteristic of alternative psychological treatments. It has a much lower level of treatment attrition (drop outs) than Exposure Therapy because it is a more comfortable process. Children also seem to benefit from an adapted procedure, and EMDR receives a level B rating with children. Existing data support the use of EMDR in children and adolescents, but compared to adults, there have been fewer RCTs evaluating this. Hence the lower rating. Single episode traumas appear to respond the most favorably to EMDR treatment, though EMDR is effective for multiple traumas as well. Elevated depression scores do seem to respond favorably to EMDR, even when they are not targeted specifically for intervention. The treatment of panic disorder has benefited from EMDR. EMDR may have some advantages over conventional exposure to trauma memories, which may be due to the dosed intermittent exposure combined with post-exposure "mindful awareness."
"In a January 2011 study in the Journal of Anxiety Disorders, for example, some patients with PTSD went through a session of EMDR while others completed all the components of a typical EMDR session but kept their eyes closed rather than moving them. The patients whose session included eye movements reported a more significant reduction in distress than did patients in the control group. Their level of physiological arousal, another common symptom of PTSD, also decreased during the eye movements, as measured by the amount of sweat on their skin. One of the ways EMDR's eye movements are thought to reduce PTSD symptoms is by stripping troubling memories of their vividness and the distress they cause. A study in the May 2012 Behaviour Research and Therapy examined the effectiveness of using beep tones instead of eye movements during EMDR. The researchers found that eye movements outperformed tones in reducing the vividness and emotional intensity of memories. Those studies relied on self-reports of symptom severity, however, so researchers at Utrecht University in the Netherlands sought more objective confirmation of a change in vividness by also measuring participants' reaction times to fragments of a previously viewed picture. The work, published online in July 2012 in Cognition and Emotion, compared two groups of participants who had committed one detailed picture to memory. When asked to recall the picture and focus on it mentally, one group was instructed to perform eye movements. That group had slower reaction times to the familiar picture fragments in a subsequent memory test, and subjects reported that the vividness of the recalled pictures had decreased. These studies and others from the past several years have helped validate EMDR—so much so that the American Psychiatric Association, the International Society for Traumatic Stress Studies, and the Departments of Defense and of Veterans Affairs have deemed it an effective therapy."
EFT and BSP - Emotional Freedom Technique & Brain Spotting - for treating trauma, anxiety disorders & negative thinking.
You are invited to come and try – at a special introductory price – an hour-long experience which will show you its possibilities and will contribute to your general well being.
Book appointments in advance for treatments at the clinic: 04-6989803