Attractions
Attractions abound in Amirim: swimming pool - every day in July & August, in the last weekends of June, and in September weekends - depend on the weather, concerts in the summer & holidays, galleries and shops, jeep tours, exciting surprises - room service to the guesthouse, a karioke - recording studio, an herb garden for trial and for sale, and a sculpture garden. Detailed material will be sent to you, after your booking is finalized, via e-mail.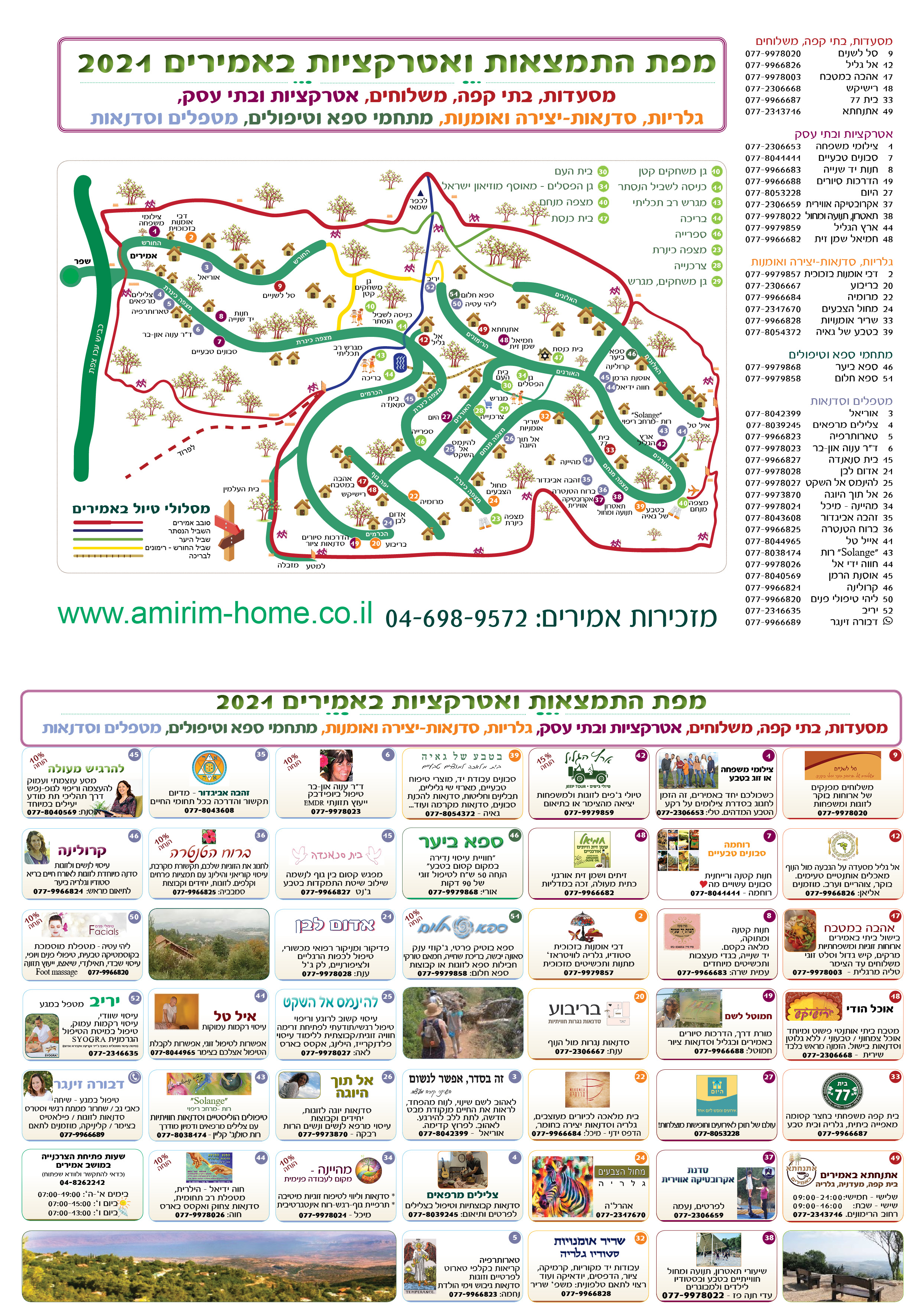 HAMIEL OLIVE OIL AND OLIVESHAMIEL OLIVE OIL AND OLIVES
Organic quality olive oil, extraction by strict standards, the olives stone-ground and cold-pressed. Certification of the Olive Council as "superior" virgin and extra-low acidity. Also a variety of homemade organic olives. 04-6989346.
Ruth Solange KleinRuth Solange Klein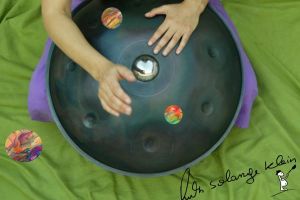 Holistic treatments accompanied by the magical sounds of the Hang drum and paints gallery. welcome to call me-Ruth solange klein 0544758351
SWIMMING POOLSWIMMING POOL
The moshav's swimming pool is open during July, August and September holidays (depending on weather). After Tu B'Av until the end of August, there are also hours for separate-sex swimming.
"SHARIR OMANUYOT" STUDIO-GALLERY"SHARIR OMANUYOT" STUDIO-GALLERY
Original handicrafts –ceramics, silk, paintings, prints, Judaica, jewellery (also designer-crafted), and other beautiful items. The studio-gallery is part of the family home, open from 10:00 to 20:00 if closed, try the home entrance. Preferably call first. Sharir family 972-4-6989233, 052-4617969.
"Helen's Gallery""Helen's Gallery"
Local artists Sunday-Saturday 8:00-19:00 055-9923322
SCULPTURE GARDENSCULPTURE GARDEN
In the center of the village, surrounded by the lovely natural greenery, easy of access, you will find the Sculpture Garden. The garden includes a lovely selection of some 20 sculptures, creations of famed sculptors from Israel and abroad. The sculptures are all from the collection of the Israel Museum, and are displayed under its auspices. Night lighting.
Eretz Hagalil - Jeep ToursEretz Hagalil - Jeep Tours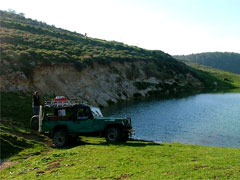 . Yoram: 050-5316140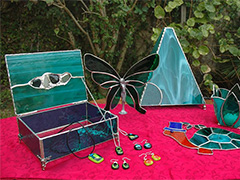 Gifts for your family+friends: Tiffany lamps, jewelry boxes, hothouses, glass jewelry, judaica and more. By appointment, you can do an exciting workshop where you will learn the ins and outs of glass, how to cut and grind glass, and to make a very special item out of amazingly colorful glass, which you will take home with you. call 054-4947691.
Karmit Kredo - Polish up your HEBREWKarmit Kredo - Polish up your HEBREW
A lovely idea for your vacation: Polish up your HEBREW while having fun with the whole family 054-6556095 website
Escape Room - The Black RingEscape Room - The Black Ring
http://www.seekers.co.il/ Ofir & Tiltan 058-4753951
** Ohn-Bar Guesthouse is not responsible in any way for the accuracy of the information, the products and the services in the external links and the send advertising publicity . Each of you may conduct a comparative examination on your own, of the products or parallel services offered on the market, including the actual prices. Ohn-Bar GuestHouse is not a party to any transaction which may be made as a result of the website, the sent info, or its links, and all who use these links do so on their sole responsibility. To remove all doubt on the subject, any link found on this website from another address does not constitute a recommendation thereof by Ohn-Bar GuestHouse of the quality or nature of the service or product offered on the website or the send advertising publicity.

How to get here?

+972-4-6989803

skype:ohnbar


From June 16 - the half-Olympic swimming pool+ separate heated pool for toddlers is open. June weekends. July & August - every day. From August 3 until 11:00 weekdays - separate hours. Admission free for our vacationers!
Spring rates. Special discounts! June Deal: 25% discount from the single night rate!
New!! come & enjoy a special deal - A cabin - the lower Winter rates + biofeedback relaxation - 199 ILS instead of 400 ILS for 1 hour treatment!
The Galilee streams are flowing and frothing, and all of Nature is painted in brilliant green!
Off-peak weekdays & weekends: discount for students, army civil servants, soldiers, and those who arrive with public transport. The discount is when booking for 2 nights at least. No discount during summer. chol hamo'ed & holidays.
Our loyal clients are getting a discount as returning guests. No discount during summer. chol hamo'ed & holidays.
New!!! We are committed to your health... Instead of the radiation hazards of wireless Internet, we've installed Internet lines infrastructure into each guest unit!
The Galilee streams are flowing and frothing, and all of Nature is painted in brilliant green! Come and see for yourselves!
An enchanting pathway directly from our territory through the natural forest to the nature reserve which surrounds Moshav Amiim has been opened.
New!! In all our cabins you will enjoy a fresh Italian coffee - Espresso machine + capsules, In the suits: Shachar, Shani, Choresh, HaEtz Hasagol, Habeer Haksuma, Kineret & HaBustan - Electric oven 43 liter.
NEW! For the benefit of those who are sensitive to air-conditioning (which had been installed in all our guest units), and for those favoring energy conservation - fans are now in every room!.
New!! A Laundry Room with washing machine & dryer is now available to you for a moderate fee. The used water will integrate into our recycling system and after filtering will be watering our fruit orchard.
No double discounts.
Please note: We will enter your unit every other day between 10:00-13:00, for clean-up and fresh towels, only if you are booked for four or more nights.
Guest are requested to arrive before 21:00, unless other arrangements had been mutually agreed upon in advance.