Restaurants & Dining Options
Prepare it yourself – Nourishing and inexpensivePrepare it yourself – Nourishing and inexpensive
In every log cabin, wood suites or guest units of ours you'll find a kitchenette well-supplied with appliances, enabling independent cooking and home food-preparation. There is a minimarket in the village, with a wide variety of products (but no meat, fish, fowl or...cigarettes), which is open every day except Saturdays and holidays; an aromatic bakery based on whole wheat flour is at your service on weekends, holidays and during the summer. You'll also find there home preserves, jams, organic humus, olives and more. In Amirim one can obtain organic products and vegetables. In Amirim, there's a pizza delivery service to the guest units. At Eyn Kamunim a drive of a few minutes, you'll find a choice of local cheeses, baked goods and home-prepared olives. In the village of Rama, 7 minutes from Amirim, you'll find supermarkets, produce shops, olives, thin Druze pittas, labaneh and fresh humus. "In the shade of the fig tree: - unique vegan food - about 20 minutes away. In the Dalton winery and Amiad winery, about 20 minutes away, you can taste and purchase quality bottled wine. In Moshav Safsufa, Gish & Rama - adjacent to Amirim, there's a pizza delivery service. All this Galilean bounty you may combine into a private romantic meal within our guest units. Families or groups of friends who are our guests, may dine together, using the suitable garden furniture which is in the spacious patios that face the Kinneret.
The list of restaurants and services is provided here in an ever-changing random order:
Hagar Bistro & Coffee - breakfastsHagar Bistro & Coffee - breakfasts
Vegetarian breakfasts delivered to your room 052-5519009 04-6980463
El Galil - Eastern Vegetarian FoodEl Galil - Eastern Vegetarian Food
Breakfast, Lunch, Dinner, everyday 9:00-20:00, Eliyan 052-5177400
Eilan mealsEilan meals
Rich meals, Delivered 5 days a week Sunday-Thursday 8:00-22:00 - order in advance until 14:30 - directly to your guest cabin. Telephone: 050-7523030.
Helen's CafeHelen's Cafe
Vegetarian breakfasts Sunday-Saturday 055-9923322
Home-baked Bread & cafe 77Home-baked Bread & cafe 77
Bakery and home conditory – products from whole wheat flour: special rolls, regular and herbal pittas, challas for Shabbat, a choice of cakes, cookies and jams. Cakes for special occasion – with inscriptions by advance order. The cake can await you within the guest unit. On Thursdays, from 17:00 to 21:00 – home pittas baked in a tabun. You're welcome to sit in the garden and enjoy your meal (no pitta-baking in rainy weather). The bakery is open from Thursday through Sunday, from 8:30 to 19:00. Peterson Family, Telephone 04-6980984.
Good on the Morning - Kosher BreakfastsGood on the Morning - Kosher Breakfasts
Vegetarian kosher breakfasts Sunday-Friday 054-7555386/7
A Basket for Two BreakfastA Basket for Two Breakfast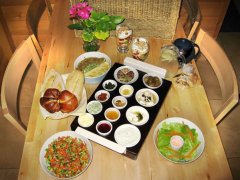 Rich and pampering meals, delivered to your room, served on proper dishes, with attention to the smallest details.
Kosher
. Delivered 7 days a week 8:30 to 12:00. Glatt Kosher - Sunday - Friday, not Kosher - Saturday. Orders up to the evening before. Moriah Telephone: 050-9531113.
For more information and menu
Yish"ay Place - Kosher Israeli Food.Yish"ay Place - Kosher Israeli Food.
Humus, Falafel, Shakshuka. Also To-Go. Sunday-Thursday - 11:00-22:00 Friday - 11:00-14:00. Open in Passover. Yishay 050-3713712
** Ohn-Bar Guesthouse is not responsible in any way for the accuracy of the information, the products and the services in the external links and the send advertising publicity . Each of you may conduct a comparative examination on your own, of the products or parallel services offered on the market, including the actual prices. Ohn-Bar GuestHouse is not a party to any transaction which may be made as a result of the website, the sent info, or its links, and all who use these links do so on their sole responsibility. To remove all doubt on the subject, any link found on this website from another address does not constitute a recommendation thereof by Ohn-Bar GuestHouse of the quality or nature of the service or product offered on the website or the send advertising publicity.

How to get here?

+972-4-6989803

skype:ohnbar


From June 16 - the half-Olympic swimming pool+ separate heated pool for toddlers is open. June weekends. July & August - every day. From August 3 until 11:00 weekdays - separate hours. Admission free for our vacationers!
Spring rates. Special discounts! June Deal: 25% discount from the single night rate!
New!! come & enjoy a special deal - A cabin - the lower Winter rates + biofeedback relaxation - 199 ILS instead of 400 ILS for 1 hour treatment!
The Galilee streams are flowing and frothing, and all of Nature is painted in brilliant green!
Off-peak weekdays & weekends: discount for students, army civil servants, soldiers, and those who arrive with public transport. The discount is when booking for 2 nights at least. No discount during summer. chol hamo'ed & holidays.
Our loyal clients are getting a discount as returning guests. No discount during summer. chol hamo'ed & holidays.
New!!! We are committed to your health... Instead of the radiation hazards of wireless Internet, we've installed Internet lines infrastructure into each guest unit!
The Galilee streams are flowing and frothing, and all of Nature is painted in brilliant green! Come and see for yourselves!
An enchanting pathway directly from our territory through the natural forest to the nature reserve which surrounds Moshav Amiim has been opened.
New!! In all our cabins you will enjoy a fresh Italian coffee - Espresso machine + capsules, In the suits: Shachar, Shani, Choresh, HaEtz Hasagol, Habeer Haksuma, Kineret & HaBustan - Electric oven 43 liter.
NEW! For the benefit of those who are sensitive to air-conditioning (which had been installed in all our guest units), and for those favoring energy conservation - fans are now in every room!.
New!! A Laundry Room with washing machine & dryer is now available to you for a moderate fee. The used water will integrate into our recycling system and after filtering will be watering our fruit orchard.
No double discounts.
Please note: We will enter your unit every other day between 10:00-13:00, for clean-up and fresh towels, only if you are booked for four or more nights.
Guest are requested to arrive before 21:00, unless other arrangements had been mutually agreed upon in advance.