Restaurants & Dining Options
Prepare it yourself – Nourishing and inexpensivePrepare it yourself – Nourishing and inexpensive
In every log cabin, wood suites or guest units of ours you'll find a kitchenette well-supplied with appliances, enabling independent cooking and home food-preparation. There is a minimarket in the village, with a wide variety of products (but no meat, fish, fowl or...cigarettes), which is open every day except Saturdays and holidays; an aromatic bakery based on whole wheat flour is at your service on weekends, holidays and during the summer. You'll also find there home preserves, jams, organic humus, olives and more. In Amirim one can obtain organic products and vegetables. In Amirim, there's a pizza delivery service to the guest units. At Eyn Kamunim a drive of a few minutes, you'll find a choice of local cheeses, baked goods and home-prepared olives. In the village of Rama, 7 minutes from Amirim, you'll find supermarkets, produce shops, olives, thin Druze pittas, labaneh and fresh humus. In the Dalton winery and Amiad winery, about 20 minutes away, you can taste and purchase quality bottled wine. In Moshav Safsufa, Gish & Rama - adjacent to Amirim, there's a pizza delivery service. All this Galilean bounty you may combine into a private romantic meal within our guest units. Families or groups of friends who are our guests, may dine together, using the suitable garden furniture which is in the spacious patios that face the Kinneret.
The list of restaurants and services is provided here in an ever-changing random order - please click on the name of the restaurant / food service for a link to their web sites:
Vegetarian breakfasts Sunday-Saturday 055-9923322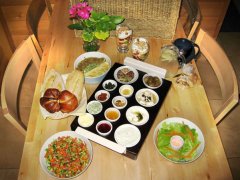 Rich and pampering meals, delivered to your room, served on proper dishes, with attention to the smallest details.
Kosher
. Delivered 7 days a week 8:30 to 12:00. Glatt Kosher - Sunday - Friday, not Kosher - Saturday. Orders up to the evening before. Shani Telephone: 050-9531113.
For more information and menu
Eilan mealsEilan meals
Rich meals, Delivered 5 days a week Sunday-Thursday 8:00-22:00 - order in advance until 14:30 - directly to your guest cabin. Telephone: 050-7523030.
Bakery and home conditory – products from whole wheat flour: special rolls, regular and herbal pittas, challas for Shabbat, a choice of cakes, cookies and jams. Cakes for special occasion – with inscriptions by advance order. The cake can await you within the guest unit. On Thursdays, from 17:00 to 21:00 – home pittas baked in a tabun. You're welcome to sit in the garden and enjoy your meal (no pitta-baking in rainy weather). The bakery is open from Thursday through Sunday, from 8:30 to 19:00. Peterson Family, Telephone 04-6980984.
Breakfast, Lunch, Dinner - also room delivering, everyday 9:00-21:00, Eliyan 052-5177400
** Ohn-Bar Guesthouse is not responsible in any way for the accuracy of the information, the products and the services in the external links and the send advertising publicity . Each of you may conduct a comparative examination on your own, of the products or parallel services offered on the market, including the actual prices. Ohn-Bar GuestHouse is not a party to any transaction which may be made as a result of the website, the sent info, or its links, and all who use these links do so on their sole responsibility. To remove all doubt on the subject, any link found on this website from another address does not constitute a recommendation thereof by Ohn-Bar GuestHouse of the quality or nature of the service or product offered on the website or the send advertising publicity.