Health treatments
In Amirim there is a large variety of health treatments and massages:
Biofeedback, EMDR, Nutritional CouncelingBiofeedback, EMDR, Nutritional Counceling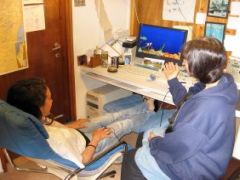 Treatment by
Biofeedback method
for control over physical and mental reactions, for dealing with conditions of pressure, anxiety, stress, pain, high blood pressure, headaches, psychosomatic disturbances and general relaxation. Use of computer programs (also for children).
EMDR
- a method of treatment for trauma, anxieties and stress conditions. Guided imagery, relaxation techniques and Nutritional Counseling.
Read more...
By appointment: DR. Anva Ohn-Bar PhD, M.S.OTR, 972-4-6989803 (fifth house from Amirim entrance, at right)
CHINESE MEDICINE & NATUROLOGY - DR. GIDEON RON, DR. OF ACUPUNCTURE (CHINA), N.D., D.O.
Expertise in Chinese medicine, naturopath (32 years experience). Treatment of all diseases, weaning from smoking. 972-50-546-4581
MICHAL FILLER
Reflexology, workshops for couples featuring massages. You're invited to a unique experience for couples, which will enhance intimacy and togetherness, in an exciting mix of colors, aromas, imagery and touch. At the session you'll experience acceptance, giving and cooperation, and will receive useful tools for support and daily enjoyment. Your uniquely enjoyable experience is guaranteed. Holistic treatments, reflexology, workshops for creative visualization, holistic massage using varied techniques and etheric oils,. Work with landscape and Tarot cards. 04-6989202, 054-2022924.
One of the unique and ancient methods for Thailand and India. Ropes at the ceiling allows the therapist to coordinate all to the Meridians scheme and sense values of intensity and continuous rate of touch to apply at different parts of the body at same time, with compression, twists soft pools and more by using his clean feet too. Oils can be applied too. Clothing will be wear fully or partly. Mostly the theraphist studied privatly, and experienced the range of methods long, and from the best at the far east. 0584666776
BODY-SOUL WHOLENESS – SPECIALLY FOR THE OBSERVANT
Holistic massage combining aromatic oils combined with pressure shiatsu or reflexology for perfect pampering. Parallel treatment for couples available. Nachum Eynav 04-6990688, 050-7548346
DREAMY TOUCH SPA
A Spa that combines all the treatments of touch and beauty in a raised wooden hut overlooking a spectacular view. In the Spa – a giant-sized, pampering Jacuzzi for the young on the porch,, a dry Sauna that stimulates the bloodstream, and cleanses the body's waste matter. A double treatment room in which you can be pampered with a variety of massages by the best masseurs. A private room for facial treatments, body peeling – with intoxicating aromatic oils and salts, products of the house. A private cafe in which you can relax to pleasant music and a healthful snack. Dalia, 04-6989054, 052-2667249.
"THE HEALER'S TOUCH" – A BODY AND SOUL EXPERIENCE
A blend of Reiki with touch therapy and reflexology. Holistic massage using etheric oils. Reiki – energy treatment for body and soul balance. Meditation workshops, and lectures on the New Age. Hava Yedey-El, 972-4-6990364, 972-50-8543224
SPA in the WOODS
Massage with aromatic oils in a romantic atmosphere, also using four hands. Variety of treatments in a charming wood cabin in forest. 50 shekels discount for a treatment for a couple – for our guests! Uri- 050-5332149, 972-4-6990666.
The Alchemy of Tuning to your Natural Self: Healing with Flower Essences, Active Meditations, Tantra for couples. www.buddhafieldflowers.com, 972-52-4860131 Contact me in Facebook: Osho center
Olive-Medicine Woman
Natural healing with the spirits of nature. Studying from Native American elders and in the Far East, Orit Baruch collects wild medicinal plants and makes natural remedies in traditional methods for healing of body & soul: shampoo for healthy hair, ointment & mask for shiny skin, powder for bright teeth, soaps for soft skin and many other remedies for holistic healing. We also recommend her spiritual consulting with cards reading and aura cleansing using Tibetan bowl and incenses. Healing the heart and soul with her nature guiding in Amirim. Website 054-7949149
Yifat- treatments for body and soul
Swedish massage - relax the entire body and increasing the level of oxygen in the blood, decreasing muscle toxins, improving circulation and flexibility while easing tension. Deep Tissue Massage- uses firm pressure and slow strokes to reach deeper layers of muscle and fascia. It's used for chronic aches and pain. Hot stone - a natural therapy in which warmed stones are positioned on parts of the client's body of to maximize the therapeutic benefit. Pregnancy massage - slow and gentle massage therapy. 60 minutes- 250₪, 90 minutes- 380₪ (including hot stone). 052-8826963
"AGAM HAMAGA" – SPA
A variety of relaxing and pampering body massages in an enchanting atmosphere. Treatment for couples. Massage combined with aromatic oils, Swedish, shiatsu, reflexology, warm stones, Ayur-veda, touch and sound therapy, Thai massage. Ora Suma – diagnosis and color consulting for illuminating quality and challenges to bridge personal growth and true realization of one's potential. 04-6989848, 054-5295557
HEALTH TREATMENTS – MASSAGE, MOVEMENT AND NUTRITIONAL CONSULTANT
Pampering, relaxing and releasing massage with oils. Massage combining gentle pressure and movement. Releases muscle and joint tightness. A couples' experience: basic instruction in massage techniques. Personalized treatments using Feldenkrais method. Leah Wagner , 972-4-6989566
DREAM SPA - HOLISTIC MASSAGE, ZEN SHIATSU AND TAWINA
Pleasurable treatment combining massage, stretching and pressure for release and relaxation. Parallel treatment available for couples, also in guestrooms. The perfect birthday gift for your spouse. Lihi Hamiel, 972-4-6987346, 972-54-7662642.
MICHAL GOELMAN
Zen, Shiatsu, Twena (Chinese physiotherapy) treatments, Jon Shine, healing, yoga breathing, meditation, aromatic massages, reading of cards 04-6989208, 052-3745638.
TAROT CARD READING – FORECAST AND CONSULTING
Tarot Card reading has forecast individual destiny since 14 AD. Here, at Amirim, the world of mysticism and the unseen will be introduced to you; also consulting. By appointment. Nechama Merav 972-4-6980559, 972-52-3716939.
MASSAGE AND REFLEXOLOGY FOR BODY AND SOUL PAMPERING
Deep tissue massage, Swedish massage with oils, reflexology. Possibility of treatment at guest home. Possibility of simultaneous treatment for couples. Eyal Tal, 972-4-6987018, 972-54-2030040
** Ohn-Bar Guesthouse is not responsible in any way for the accuracy of the information, the products and the services in the external links and the send advertising publicity . Each of you may conduct a comparative examination on your own, of the products or parallel services offered on the market, including the actual prices. Ohn-Bar GuestHouse is not a party to any transaction which may be made as a result of the website, the sent info, or its links, and all who use these links do so on their sole responsibility. To remove all doubt on the subject, any link found on this website from another address does not constitute a recommendation thereof by Ohn-Bar GuestHouse of the quality or nature of the service or product offered on the website or the send advertising publicity.