About the village and hikes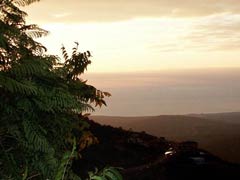 Amirim, in its format as a vegetarian and vegan village, was established in 1958 A committed group of "nature freaks" settled on a rocky and exposed area, dwelling in small, standard structures. Long years of hard labor, patience and much investment brought Amirim to its present appearance.
At a height of 600 meters above sea level, Amirim is endowed with the typical climate found in Israel's hilly areas – dry and hot in daytime and cool at night in transitional seasons and summer, and cold, sometimes snowy in winter. The village is situated on a southern slope, protected from northern winds by the Mt.Meron reserve, and exposed to the sun's rays mainly from the east and south. Like its name, Amirim is the highest of these hills, overlooking the Lower Galilee, Lake Kinneret and the Golan Heights. The village has three hilly extensions and between them are the wadis that carry rainwater, in wintertime, to Nahal Amud, flowing on to Lake Kinneret.
The homes in the village blend into the thick woods, and in the yards are stone terraces, scenic gardens and today -- vacation units. The quiet, pastoral atmosphere, clear mountain air, lush greenery, breathtaking views and deep blue of the Kinneret -- bestow a European flavor to the area.
The people of Amirim live a natural vegetarian/vegan life-style. Barbecues and mangals are not allowed, and there are no meat products (including fish and fowl).
A Walk Through the VillageA Walk Through the Village
A walk along the scenic road includes ascents and descents (some steep), and its length is about a kilometer and a half. During the length of this route there are romantic benches along the way, where one can take in the scenery. At the village center you'll find a minimarket, a large playground situated on a central lawn, with a sculpture garden through the footpaths, and seating areas within the natural forestry. An enchanting pathway directly from our territory through the natural forest to the nature reserve which surrounds Moshav Amiim has been opened specially for your walking pleasure. Two panoramic observation points await you, one called Mitzpeh Kinneret and the other Mitzpeh Menachem. In both there are benches overlooking breathtaking views. In Mitzpeh Kinneret there are open-for-all light classical or ethnic folk concerts held before the Sabbath or holiday eves throughout the summer. The swimming pool along with the heated separate toddler pool, open every day to all only during July & August, and partly in the weekends from mid June and in September weekenda (depend on the weather), is situated within an enchanting wadi. Occasionally there is nighttime swimming, and after Tu B'Av there is separate-sex swimming in the mornings, for men from 8:00 to 9:30, and for women from 9:30 to 11:00. There is an active synagogue for the observant public and a mikveh for women. A mikveh for men is in the neighboring village. The grave of the Rash"bi in Meron is a few minutes' drive away.
Restaurants, Treatments and AttractionsRestaurants, Treatments and Attractions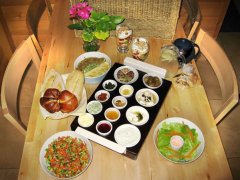 A wide array of
eating facilities
is available – family restaurants, kosher restaurants, bakery, meal delivery to the vacation units, all strictly vegetarian. The menus are rich and varied, revealing to you the wonders of the vegetarian kitchen. Multivaried
alternative therapeutic treatments
are yours for the choosing: massages, spa treatments, spiritual workshops and dietary guidance, biofeedback and relaxation techniques.
Attractions
such as jeep tours (enabling you to discover the Galilee wilderness), a herb garden for spice and healing, a plant nursery and many galleries – all await you. Printed material detailing all that Amirim has to offer will be sent to you electronically or by fax, after booking your vacation unit.
Hikes in the AreaHikes in the Area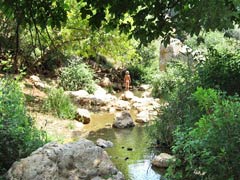 One can hike around Amirim in the natural wooded area and on the marked forest footpaths – we'll be happy to direct you to the routes leading out of Amirim. The village Amirim is located at a central spot in the Galilee. Within 20 minutes to half an hour you can get to the shores of the Kinneret or the Golan Heights to the east, to the reservation at Mt. Miron and to a circular route at its peak, to Safed with its ancient alleys to the north, and to Acre and its antiquities to the west. Near Amirim flow three enchanting streams – Nahal Amud, Nahal Farod and Nahal Tsalmon. The area abounds with holy graves of the Sages, vineyards, many oriental restaurants, a horseback riding facility, mini-tractors, museums, galleries, and many artists and unique characters! You will get detailed individual directions from us on site.

How to get here?

+972-4-6989803

skype:ohnbar


From June 16 - the half-Olympic swimming pool+ separate heated pool for toddlers is open. June weekends. July & August - every day. From August 3 until 11:00 weekdays - separate hours. Admission free for our vacationers!
Spring rates. Special discounts! June Deal: 25% discount from the single night rate!
New!! come & enjoy a special deal - A cabin - the lower Winter rates + biofeedback relaxation - 199 ILS instead of 400 ILS for 1 hour treatment!
The Galilee streams are flowing and frothing, and all of Nature is painted in brilliant green!
Off-peak weekdays & weekends: discount for students, army civil servants, soldiers, and those who arrive with public transport. The discount is when booking for 2 nights at least. No discount during summer. chol hamo'ed & holidays.
Our loyal clients are getting a discount as returning guests. No discount during summer. chol hamo'ed & holidays.
New!!! We are committed to your health... Instead of the radiation hazards of wireless Internet, we've installed Internet lines infrastructure into each guest unit!
The Galilee streams are flowing and frothing, and all of Nature is painted in brilliant green! Come and see for yourselves!
An enchanting pathway directly from our territory through the natural forest to the nature reserve which surrounds Moshav Amiim has been opened.
New!! In all our cabins you will enjoy a fresh Italian coffee - Espresso machine + capsules, In the suits: Shachar, Shani, Choresh, HaEtz Hasagol, Habeer Haksuma, Kineret & HaBustan - Electric oven 43 liter.
NEW! For the benefit of those who are sensitive to air-conditioning (which had been installed in all our guest units), and for those favoring energy conservation - fans are now in every room!.
New!! A Laundry Room with washing machine & dryer is now available to you for a moderate fee. The used water will integrate into our recycling system and after filtering will be watering our fruit orchard.
No double discounts.
Please note: We will enter your unit every other day between 10:00-13:00, for clean-up and fresh towels, only if you are booked for four or more nights.
Guest are requested to arrive before 21:00, unless other arrangements had been mutually agreed upon in advance.